A bug bounty program and a penetration test are both important measures to improve the security level of a system. However, there are important differentiators between the two that need to be understood before deciding which one to use.
This blog post will provide deeper insights into the nature of bug bounty programs and penetration tests and highlight the individual features that differentiate them.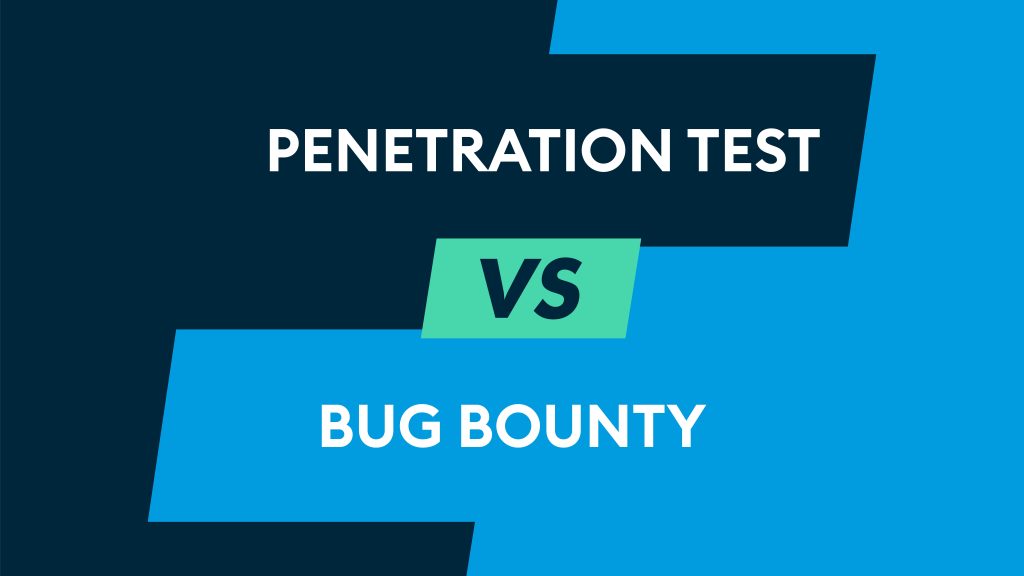 What is a Bug Bounty Program?
A bug bounty program is a program advertised by a company or organization that places rewards on the discovery of vulnerabilities in, for example, software applications or web services. The rewards are usually in the form of cash or non-cash prizes. These programs help operators to fix the discovered vulnerabilities – if possible before they are exploited by cybercriminals.
Many different bug bounty programs exist around the world. Companies such as Microsoft, Google, Mozilla, Facebook and many more have a bounty program in place. If you want to try your hand at a bug bounty program, you can do so directly at an organization's advertised program or use a platform that mediates between ethical hackers and the advertised organization. HackerOne, Bugcrowd and Intigriti are examples of established international bug bounty platforms. The use of such bug bounty platforms is mandatory in many organizations, as they relieve the organization of administrative work, such as paying out for vulnerabilities found.
The 4 Characteristics of a Bug Bounty Program
Bug bounty programs are becoming increasingly important for finding and fixing security vulnerabilities in software products. There are four characteristics that distinguish them:
Bug bounty programs must be continuously maintained and evaluated.
Experts from different fields and countries will deal with the security of software applications or web services in scope of the program.
Errors and vulnerabilities can be eliminated through the program to prevent them from being exploited by cybercriminals and causing damage.
Having a bug bounty program will increase the reputation of the company towards the end customers.
What is a Penetration Test?
In a penetration test, assets are systematically and methodically examined and assessed by security experts with the inclusion of customer requirements. Every company has a unique IT infrastructure, which is why the procedure for a penetration test is always individual. After the penetration test, a comprehensive final report is prepared in which the detected vulnerabilities are listed in a target group-oriented manner, including a risk assessment and tailor-made proposals for measures. Additionally, a management summary is included to summarize the most important take-aways from the test for management to read without getting bogged down in the technical details.
Differences Between Penetration Tests and a Bug Bounty Program
A bug bounty program and penetration testing are two of the most effective ways to ensure an organization's security. Both have certain differences that need to be considered. The following characteristics distinguish the two methods:
| | |
| --- | --- |
| Penetration Test | Bug Bounty Program |
| A penetration test takes a snapshot of the security situation. | A bug bounty program continuously helps identify vulnerabilities, but testing activities are not guaranteed. |
| The result of a penetration test is a comprehensive final report in which the vulnerabilities, including risk assessment and tailor-made proposals for action, are listed in a manner appropriate to the target group. | Bug bounty programs report vulnerabilities, which must be checked and verified by the company for their correctness and novelty. The quality of the reported findings can vary greatly. |
| Penetration tests have a clearly defined price according to the infrastructure and individual specifications. | Bug bounty programs are not clearly definable from a financial perspective. A company must weigh attractiveness against cost. High rewards for vulnerabilities have a direct impact on tester interest. The expenses for the company are variable depending on the number of findings found. |
| A penetration test has a limited duration, during which the subject of the test is examined by experts. | The limited test duration does not apply to a bug bounty program. A company can take advantage of this feature strategically. If a company sets the scope on a small, particularly critical part of an application with a high reward for a vulnerability found, this leads to numerous test activities whose test time is not limited. This means that the critical part can be examined in particular depth. |
Conclusion
Bug bounty programs and penetration tests are not in competition but complement each other. A penetration test gives a snapshot of the security situation and the risk situation including measures, whereas the bug bounty program continuously promotes security. It is important to mention here that the premiums in a bug bounty program have an influence on the interest of ethical hackers. With premiums that are too low, interest decreases and little or no testing activity occurs. Before a go-live, it is recommended to conduct a penetration test that is customized to the company. After go-live, the bug bounty program continually promotes security. This approach reduces the incalculable costs from the bug bounty program. Through the penetration test, vulnerabilities are found and fixed in advance, which could cause high costs in a bug bounty program.
Oneconsult Helps You with Penetration Testing
Penetration tests are an essential part of the modern cyber security strategy and an important way to uncover potential vulnerabilities in your systems. When performing penetration tests, we support you with our comprehensive know-how. We help you identify vulnerabilities, assess the potential risks and develop measures to improve security. You can find more information here: Oneconsult Penetration Testing.
We look forward to hearing from you without obligation: