Proactively protect your web shop, internet banking platform, mobile app, ICS (SCADA/DCS), IoT device or IT infrastructure via penetration test / ethical hacking, code review, reverse engineering or APT test by our certified penetration testers and security researchers.
Proactively protect your IT assets with a penetration test
There is no «typical» penetration test. Therefore, we offer various types of penetration tests / ethical hacking (incl. APT tests), optimized to the specific requirements of web applications, mobile apps, SAP solutions, ICS (SCADA/DCS), IoT devices, different attack vectors and general conditions or your particular needs (e.g. does your SOC, cloud or service provider live up to its promises?).
Our penetration tests help you to identify technical security vulnerabilities, categorize their risks, evaluate and implement mitigation measures. We give you detailed prioritized recommendations on how to fix them as part of the comprehensive final report to protect your IT assets from unwanted activities.
We have one of the largest teams of highly skilled, salaried and certified penetration testers in Switzerland conducting over 200 penetration test projects per year and employ the most current methods and strategies which are also used by «real» hackers. We cover the entire range from standard penetration tests, code reviews, exploit development, reverse engineering to ethical hacking and APT tests under real-life conditions.
Since Oneconsult's inception in 2003, we have covered a wide variety of products and technologies in hundreds of penetration test projects, an overview of which you will get in our detailed, anonymized references section.
One of the largest penetration tester teams in Switzerland

1200 penetration test projects
(200+ per year)

Proven testing methodologies

Meaningful, clear reports

Categorized risks

Detailed measures catalog incl. prioritization recommendation

Office IT, ICS (SCADA/DCS) and IoT devices

Code review

Exploit development

Reverse engineering
We offer the following penetration test types:
IT Infrastructure Penetration Test
The penetration test is a realistic, simulated hacker attack. During the available testing time all security vulnerabilities are systematically searched for. A penetration test involves a much higher degree of manual work than a fully automated scan, with the testers putting themselves in the position of a hacker. In comparison to an application security audit, the penetration test encompasses unprivileged tests (i.e. tests without knowledge of valid access information like user ID/password, etc.), but privileged tests may be carried out if access information becomes available during the penetration test. The main differences between a penetration test and ethical hacking are that in the former, the testers are looking for all vulnerabilities and the object of investigation may be penetrated but not modified permanently.
Application Penetration Test
The application penetration test is a security test of an application and its associated front- and back-end systems. Web applications, mobile apps, appliances as well as classic client/server applications may be examined as executable programs or as source code. During the available testing time all security vulnerabilities are systematically searched for in the operating system, the basic services and the application on top.
During this type of penetration test both unprivileged and privileged tests will be carried out, thus covering both the perspective of an outsider (e.g. hacker) and an insider. The application penetration test is the most comprehensive test type, which is especially suited for critical infrastructure like ICS (SCADA systems / DCS), internet banking portals, online shops, mobile apps or interactive business websites.
The following methods and types of tests may be used in an application penetration test:
OWASP Top 10 / OWASP Mobile Top 10
OSSTMM
Code review
Reverse engineering (hardware and software)
API monitoring
Network sniffing & packet analysis
Injection tests
In some cases an application or a system are in scope of a security audit, however, the client does not have access to the source code / blueprint of the device or does not want to reveal these. Reverse engineering is the analysis of the security-related system behavior and functionality of a device or an executable application based on the black-box approach.
The following methods may complement reverse engineering projects:
Protocol reverse engineering (network sniffing & packet analysis)
Code review of the generated source code
API monitoring
Approach: Penetration Test, Ethical Hacking and APT Test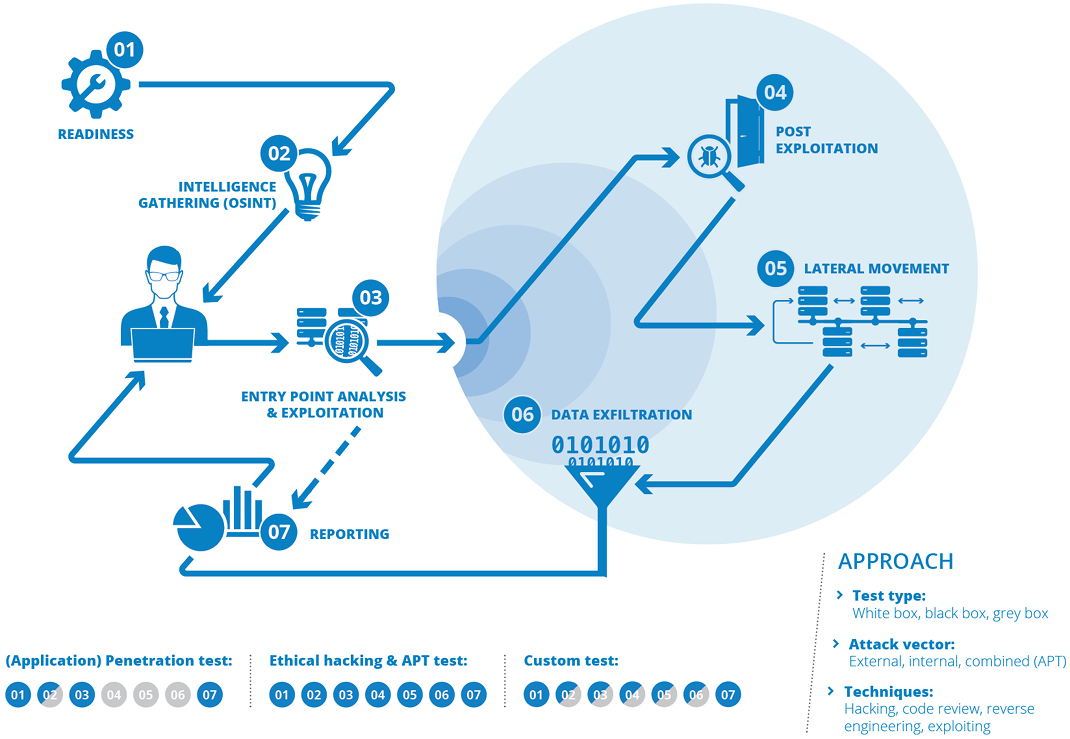 Each of our projects starts with a kick-off meeting to make sure we understand your specific requirements, agree on testing conditions and clarify open points.
After the kick-off meeting, i.e. penetration tests are carried out according to the following project phases:
Test preparation
Information gathering
Analysis and verification of security holes
Optional: Development and application of exploits (as proof of concept)
Reporting
Optional: Project presentation or only discussion of the final report
The final penetration test report will include:
Executive summary
Project scope and objectives
Categorization of risks
Detailed recommended measures
Risk Assessment Value (benchmark)
If required, we will also send you the tool-generated output, action logs and dump files from the penetration tests.
Effort
For each penetration test type we will make sure that assessing the security vulnerabilities of your system is done in a thorough and cost-effective way. If a large number of systems need to be tested, we recommend taking a funnel approach. Thereby all systems are first analyzed with a security scan, based on the results of which we decide with you which systems should be tested more intensively with an IT infrastructure penetration test or an application penetration test.
Penetration Test Expertise
Since Oneconsult's inception in 2003, we have conducted over 1200 penetration test projects of various types, 850 of which are OSSTMM-compliant. Amongst other qualifications (like GXPN, OSWP or OPSA), our technical security specialists hold OPST and OSCP certifications. Oneconsult AG is an ISECOM Partner (accredited trainer) and, based on the number of OSSTMM-compliant security audits, Europe's leading OSSTMM security auditor.
For definitions of information and IT security terms please refer to our glossary.
Ethical Hacking
Ethical hacking refers to targeted hacking on the basis of a clearly defined assignment from the client to exploit technical, organizational und conceptual flaws. Ethical hacking is a classical «proof of concept» security test with the objective to detect design-based security weaknesses like suboptimal trusts between systems, flaws in a zone concept, or employee misconduct. In contrast to a penetration test or application security audit, the search for vulnerabilities stops once a security flaw has been found which can be exploited to meet the objective. Thus, ethical hacking does not entail a comprehensive, systematic search for all technical vulnerabilities.
Enumeration
Before an attack it is necessary to gather as much information as possible about the target system. This step is also known as "enumeration process" or "application mapping". The goal of enumeration is to get a concrete idea of the structure of the application in order to optimally exploit technical, architectural as well as logical properties of the application for an attack.
Information Security Policy
The information security policy constitutes the highest level of all security policies. According to ISO/IEC 27000, a policy describes the "intentions and direction of an organization as formally expressed by its top management". The information security policy (according to ISO/IEC 27001) must support the purpose of the organization and should either include security objectives or provide a framework for establishing these objectives. Furthermore, it must make a commitment for the continual improvement of the ISMS (information security management system). According to the best practices of ISO/IEC 27002, the information security policy should define information security, describe principles for activities relating to information security and contain statements regarding the assignment of responsibilities as well as for handling deviations and exceptions.
White Hat (Test Type)
According to NIST SP 800-115, during a white hat test (or overt security test) the administrators of the systems in scope are informed about the tests (as opposed to a black hat test).
Test Vector
Depending on the scenario, different test vectors will apply for technical security audits: Remote testing (for example via Internet into the DMZ or via 3G/WLAN connection to a mobile device), within the DMZ, in the LAN / WAN, via interfaces. Tests carried out in the LAN / WAN may be conducted on-site or via remote access.